FM to President Assad: Iran will continue strong support of Syria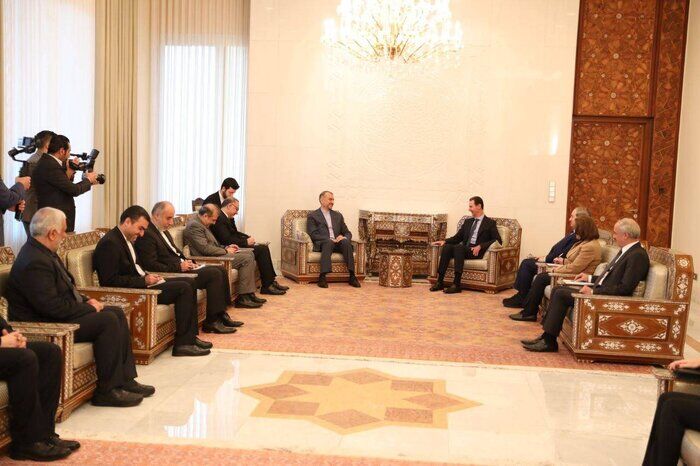 Iran's Foreign Minister Hossein Amirabdollahian told Syrian President Bashar al-Assad on Saturday that his country will continue "its strong support" of Syria, adding that Iran considers the security and progress of Syria as its own.
Amirabdollahian met Assad in Damascus during his trip to Syria, which took place on the second leg of his regional tour that earlier took him to Lebanon.
The foreign minister expressed satisfaction over the growing relations between Iran and Syria, stressing the importance of preparing ground for the development of those ties in the long term.
Amirabdollahian also expressed satisfaction on Syria's expanding relations with other countries, saying that it shows Syria has an important position in the region.
He said that Iran always stresses the use of political solutions instead of war. Therefore, he added, the Islamic Republic welcomes "positive changes in Syria's political relations with other countries".
The Iranian foreign minister spoke about the recent riots in his country, saying that Iran faced a hybrid war in which some Western states played "a provocative and meddlesome role", but they were defeated.
Amirabdollahian also talked to President Assad about the latest developments regarding nuclear negotiations aimed at removing the illegal sanctions imposed by the West on Iran.
The Syrian president, for his part, said that Iran stood by Syria during war in the past years, adding that Syria will never forget that support.
He described as important a future trip by Iranian President Ebrahim Raisi to Syria.
Al-Assad also elaborated on the latest political and diplomatic developments regarding Syria, stressing the importance of continued talks and coordination between Tehran and Damascus over key bilateral and regional issues.
He said that the Islamic Republic of Iran is the partner of Syria, noting that the two countries will continue to support each other in different fields.
SOURCE: IRNA