Iran Calls for Selection of Lebanon President without Foreign Interference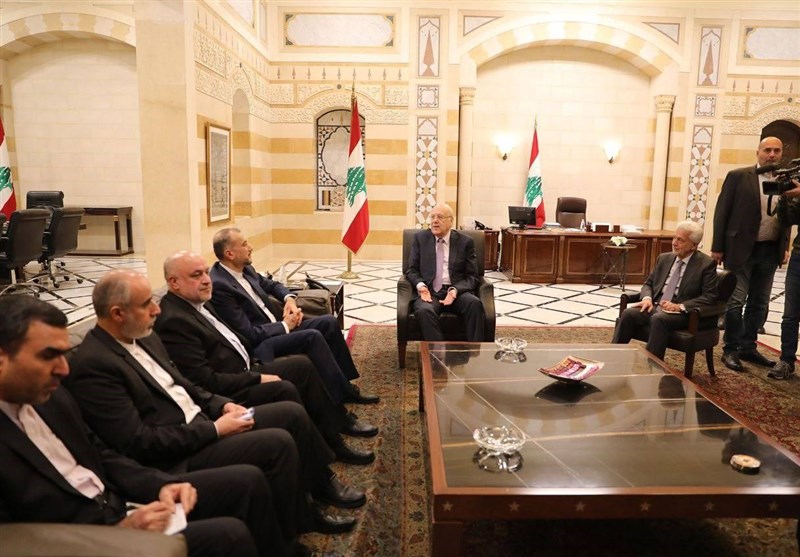 Iranian Foreign Minister Hossein Amirabdollahian stressed the need to conclude the political processes in Lebanon and elect a new president through dialogue and domestic compromise without any foreign interference.
During his trip to Beirut, Amirabdollahian met with Lebanon's caretaker Prime Minister Najib Mikati on Friday for talks on the latest developments in Lebanon as well as issues of bilateral, regional and international significance.
Emphasizing Iran's support for stability, and peace in Lebanon, Amirabdollahian expressed hope that the political process in the country over the election of a president would bear fruit at the earliest within the framework of internal dialogue and consensus among various Lebanese parties and without any foreign interference.
"We see Lebanon's progress as Iran's own progress and Lebanon's stability and security as Iran's own stability and security. We have no intention to meddle in the domestic affairs of Lebanon, but we stand ready to provide support if need be," he added, the Foreign Ministry's website reported.
The two sides also discussed the situation in Yemen, Palestine and Ukraine, the process of talks between Iran and Saudi Arabia, as well as the latest status of the talks for the removal of anti-Iran sanctions.
On Iran-Saudi talks, Amirabdollahian said, "Some progress has been made and Iraq is still interested in playing a positive role in this regard, and we agree with Riyadh that the negotiations need to continue until results are achieved."
He elaborated on Iran's principled positions on the crisis in Yemen and said, "Through our spiritual influence in Yemen, we make efforts for calm to continue in the country."
The Iranian foreign minister also stressed the necessity for an end to the neither-war-nor-peace situation in Yemen, the start of Yemeni-Yemeni talks, and the establishment of lasting stability in the country.
For his part, the caretaker Lebanese premier explained the developments in Lebanon's political process and the issue of electing a president and forming a new government in the Arab country.
Mikati also expressed gratitude to Iran for supporting the completion of the political process in Lebanon.
The Lebanese prime minister welcomed the negotiations between Iran and Saudi Arabia, calling for the process to reach a conclusion.
He said the resumption of Iran-Saudi ties will serve the interests of the two countries, Lebanon and the entire region.
Mikati also presented his views on the developments in Yemen, the Ukraine crisis, and the Iran nuclear talks.
SOURCE: Tasnim