A neutral conference with no obvious achievements
WANA (Mar 04) – Since the beginning of Rafael Grossi's presidency of IAEA, this method has become a normal practice. That when he is in Tehran, his statements are moderate and without bias and often neutral, but when he returns to his headquarters, his reports and statements become harsh.
Tehran has repeatedly protested against this procedure and called it an unprofessional act. Grossi and the agency have always denied this claim.
Grossi has arrived in Tehran since yesterday and this morning after his second meeting with Mr. Eslami, Chief of Atomic Energy Organization of Iran, he participated in a joint press conference.
In this conference, nothing special and important was said. We still do not know if the IAEA received the answers to the questions it raised earlier or not. We still do not know if this trip is going to lead to the improvement of relations between Iran and the Agency and between Iran and the West in real terms or not.
We still do not know if Grossi is going to be a savior of Iran-West relations or if he will play a role as part of a reason for another fight and conflict like in the past.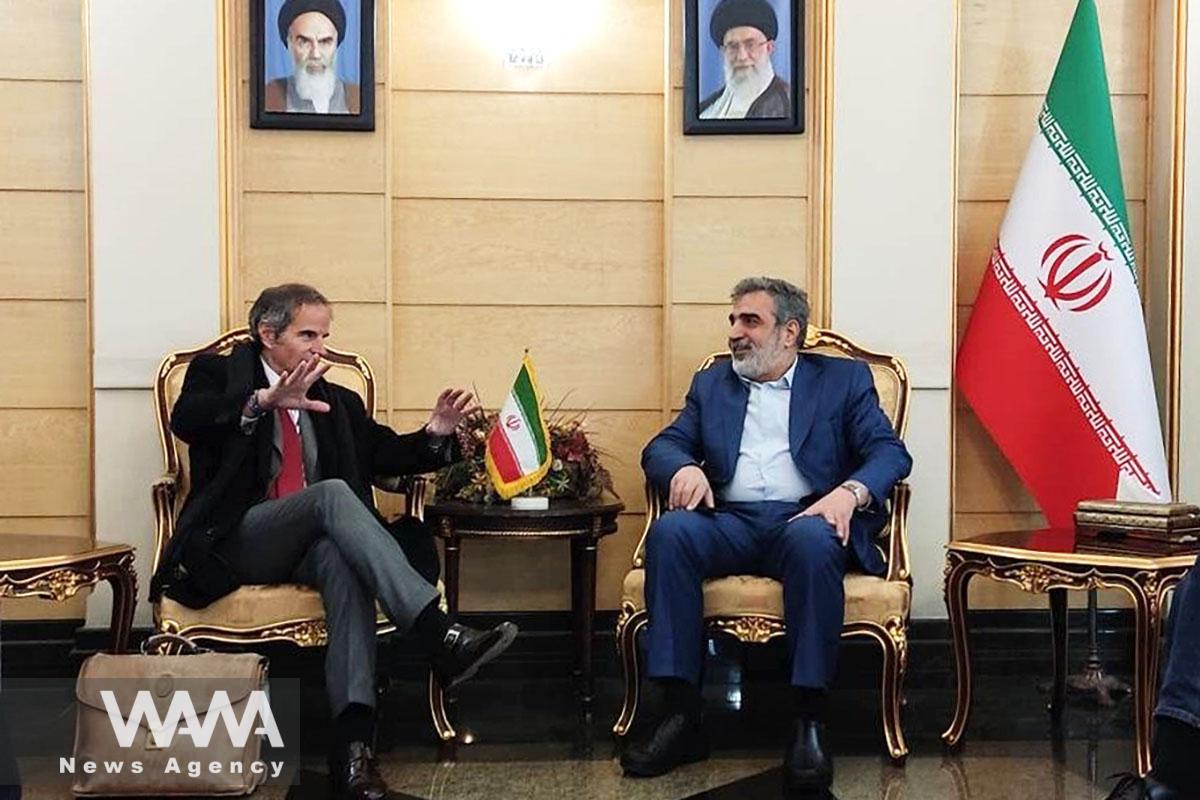 IAEA Grossi in Tehran. Reconciliation or intensifying the fight?
WANA (Mar 03) – The director general of the International Atomic Energy Agency (IAEA), Rafael Grossi has arrived in Tehran for high level meetings. The two-day visit comes precisely a year after the last one. Speaking at a summit in Baku before his trip to Iran, Grossi emphasized on the importance of maintaining advanced […]
Rafael Grossi, Head of the IAEA, arrived in Tehran Friday March 3rd to begin new rounds of talks with Iran over the country's cooperation on its nuclear program.
Within the past few weeks, a nuclear inspector claimed to have found traces of 84 percent enriched Uranium in Iran's nuclear facilities which came to prominence after a Blomberg article quoted the inspector.
Iran has maintained that a delegation from the atomic agency was present in the country over the past week and that ambiguities surrounding the enriched uranium discovered in nuclear facilities had been resolved.
"I don't see any discrepancy," said Grossi during his presser today. "The atmosphere is an atmosphere of work, of honesty and cooperation and I think this for me is the most important thing," added the IAEA chief.
Grossi stated that all nuclear facilities are subject to the same protections, but the agency is currently focused on the Zaporozhye nuclear power plant in Ukraine at the moment.
Eslami, head of Iran's atomic agency, said: "We will continuously work and it will be lasting and we will not allow any discrepancies to happen to cause distrust." Eslami had said previously that Iran "would not tolerate" the meddlesome behaviors it is being subjected to regarding its nuclear program, and maintained that the matter of Iran's nuclear enrichment was being subjected to excess commotion. He also stated that Iran has maintained an enrichment of 60 percent.
Kamalvandi, Spokesman of the Atomic Energy Organization of Iran, stated last week that "a few" highly enriched particles during the enrichment process is natural and implies it was these particles that showed up on the inspectors' tests.
Grossi stated: "By having a constructive discussion like we are having now, and having good agreements, like I am sure we are going to have, we are going to be paving the way for important agreements."
Iran was ordered by the UN watchdog to urgently cooperate with a probe into its nuclear program, and Grossi's visit to Tehran is his attempt to harbor more cooperation between Iran and the IAEA.
International Atomic Energy Agency (IAEA) Director General Rafael Grossi gestures during a news conference with Head of Iran's Atomic Energy Organization Mohammad Eslami as they meet in Tehran, Iran, March 4, 2023. Majid Asgaripour/WANA (West Asia News Agency)
Head of Iran's Atomic Energy Organization Mohammad Eslami and International Atomic Energy Agency (IAEA) Director General Rafael Grossi arrive at a news conference, in Tehran, Iran, March 4, 2023. Majid Asgaripour/WANA (West Asia News Agency)
International Atomic Energy Agency (IAEA) Director General Rafael Grossi looks on during a news conference with Head of Iran's Atomic Energy Organization Mohammad Eslami as they meet in Tehran, Iran, March 4, 2023. Majid Asgaripour/WANA (West Asia News Agency)