Consequences of Burning the Quran in Stockholm
WANA (Jul 1) – On Wednesday, a 37-year-old man stood outside the Swedish capital's central mosque and tore out and torched pages from a copy of the holy Qur'an as Muslims celebrated the Eid al-Adha holiday.
The man, who identified himself as an Iraqi refugee, burned the holy book following the go-ahead given by a court and was protected by Swedish police while doing so.
In its written decision granting a permit for the desecration, Stockholm police said the security risks associated with the burning "were not of a nature that could justify, under current laws, a decision to reject the request."
The sacrilegious act has drawn condemnation from Muslim countries, including Turkey, Iran, Jordan, Palestine, Saudi Arabia, Morocco, Iraq, Pakistan, Senegal, Morocco, and Mauritania.
The Iranian foreign Foreign Minister Hossein Amir-Abdollahian tweeted on Thursday:
"The Muslim world strongly condemns the sacrilege of holy books and the Qur'an. Sweden's green-lighting of an act of desecration against religious sanctities and the Holy Qur'an is not justifiable at all. Branding such moves as acts of democracy and freedom will only fuel further terrorism and extremism and will backfire on the West before any side".
Sweden's charge d'affaires in Tehran was also summoned. Morocco and Jordan have recalled their ambassadors to Stockholm, and Morocco has also summoned Sweden's charge d'affaires in Rabat.
Iraq said the incident was "a reflection of a hateful aggressive spirit that has nothing to do with freedom of expression." Dozens of Iraqi protesters briefly breached the Swedish embassy in Baghdad over the desecration on Thursday.
Turkish President Recep Tayyip Erdogan said Turkey would "show a reaction in the strongest way until a determined fight against terrorist organizations and enemies of Islam is carried out."
Saudi Arabia – hosting around 2.5 million worshippers on the annual Hajj pilgrimage this week – said, "These hateful and repeated acts cannot be accepted with any justification."
The United Arab Emirates also summoned the Swedish ambassador on Thursday to protest the burning. Egypt said the act was "shameful," especially since it took place on Eid al-Adha, voicing concern about "repeated incidents" of the burning of the Qur'an in Europe.
The Organization of Islamic Cooperation (OIC) roundly condemned the desecration. It warned in a statement on Thursday about the dangers and consequences of such actions, emphasizing the significance of adherence to international charters and regulations concerning respect for human rights.
Sweden, however, defends its decision to allow the action saying it is in line with free-speech protections. The burning of the Quran has become a mainstay of far-right extremists in Sweden, with Danish-Swedish far-right politician Rasmus Paludan having made a name for himself with such acts.
A country that voted to add "transgender identity and expression" to the country's hate speech law. A preacher was even prosecuted for hate speech after a 2003 sermon where he described homosexuality as "a sexual abnormality" and compared it to "cancer."
Hate crimes, especially those targeting visible Muslims, are constant, as are the growing restrictions and outright bans on the hijab. Acts of vandalism and arson against mosques are endless, and in many countries, the authorities have taken considerable action to criminalize Muslim civil society, shutting down organizations and mosques and imprisoning individuals.
References to "free expression" in such contexts are no more than a cover for anti-Muslim views, especially as Muslims' right to free expression is increasingly restricted around the globe.
The definition of hate speech in the Cambridge Dictionary is as follows:
"public speech that expresses hate or encourages violence towards a person or group based on race, religion, sex, or sexual orientation."
Therefore, Stockholm should not be surprised by protesters storming its embassy in Baghdad or any other Muslim-majority country since burning religious holy books is the most outrageous disrespect to that faith. European leaders are very well aware of the weight the holy book carries in the lives and identities of billions of Muslims, so the decision to burn the Quran is calculated.
It can be seen that Muslims worldwide, whatever sect or country they are from, have strongly voiced their anger, showing the underlying unity which connects them by a thread called the Holy Qur'an.
---
WANA writer / F. Fazaeli / Jun 27, 2023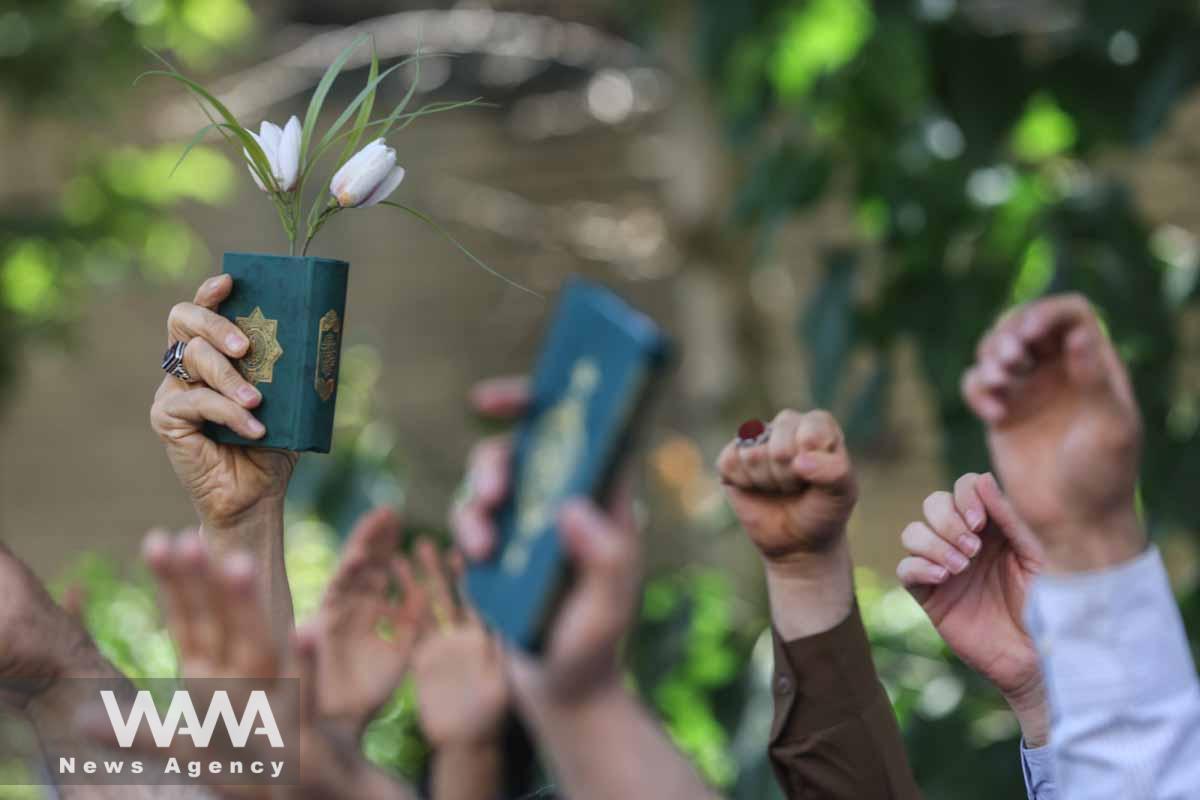 Quran desecration condemned by Iranian
Photo by : Majid Asgaripour