Foreigner's firsthand insight into Iran's Defense Capabilities
WANA (AUG 23) – Tehran, August 23rd – The Ministry of Defence in Tehran hosted the Military Attaches of Foreign Embassies in the Defense Ministry Exhibition, showcasing Iran's latest military technology and advancements .
Military attachés from various foreign embassies gathered for this momentous event, which also included a meeting with Iran's Minister of Defense, Mohammad Reza Gharaei Ashtiani, providing military attachés and foreign figures with firsthand insight into the nation's capabilities.
Minister Gharaei Ashtiani addressed the audience during the ceremony, emphasizing the significance of Iran's military power in ensuring regional stability. "We can establish security in the region by ourselves with the help of other countries (of the region). We will definitely do this.", stated Gharaei Ashtiani. He further emphasized Iran's unwavering stance on limiting foreign intervention within the region. "We will not accept the presence of foreigners in this region." the Minister affirmed.
Highlighting the importance of international partnerships in the area of defense, Gharaei Ashtiani expressed Iran's willingness to engage with independent and aligned countries for mutual advancement. " Iran now can cooperate and interact with independent and aligned countries in the field of military and defense without any international restrictions," he remarked.
As the news and pictures of this exhibition went viral yesterday, The news has sparked reactions from the international community. An English-language channel "Al-Jazeera" wrote in a report on Iran's new drone that was unveiled in this exhibition: Iran has unveiled a new drone that is capable of attacking targets in Israel."
As representatives from various embassies of foreign nations walked through the exhibits, they were exposed to cutting-edge weaponry, innovative warfare systems, and advanced communication infrastructure, all showcasing Iran's commitment to glow in defense innovation.
This event also serves as a platform for dialogue and collaboration among nations with shared interests. The visiting military attachés have the opportunity to engage with Iranian officials in an environment of understanding and cooperation.
Iran's advanced technological achievements in defense position the country to play a critical role in shaping a secure and stable region free from any undue external influences.
---
WANA / S.Khezri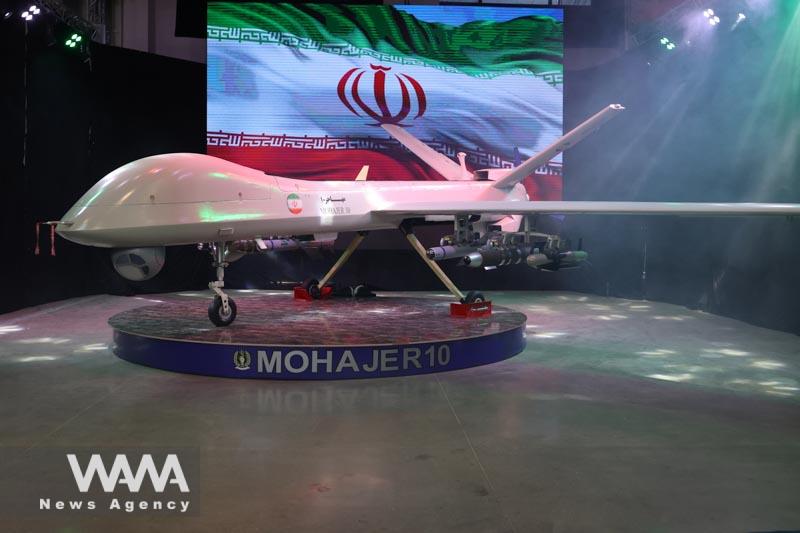 Iran's defence achievements exhibition
Photo by : Majid Asgaripour