Gen. Salami: "definitely take revenge"
WANA (Apr 4) – Two Iranian IRGC soldiers were killed in Damascus on Friday March 31st following an Israeli airstrike carried out on the suburbs of the Syrian capital.
Milad Heydari was killed on the spot during the airstrikes and Meghdad Jafarabadi, his comrade, died in the hospital a few hours after the attack as a result of the severity of his injuries.
The attack is being alleged to have taken place against military centers under the command of Iran in the region. The attack is the 6th military attack by Israel on the region in the month.
The IRGC released a statement following the death of the two soldiers vowing revenge for the death of the soldiers while condemning the silence of the international community following the repeated incursions and "the continued disruption to the territorial integrity of an independent, UN-member state".
During the funeral procession held in Tehran's Imam Hussein Square on April 4th, IRGC Commander-in-Chief Hossein Salami said Iran would will "definitely take revenge" for the killing of these two soldiers.
Attendees at the funeral chanted anti-Israeli slogans and escorted a palanquin made for the two martyrs. One attendee said "Israel will never reach its goal, and it's only expediting its own demise with these actions." Another added that Iran should "adequately confronting the enemy with full force".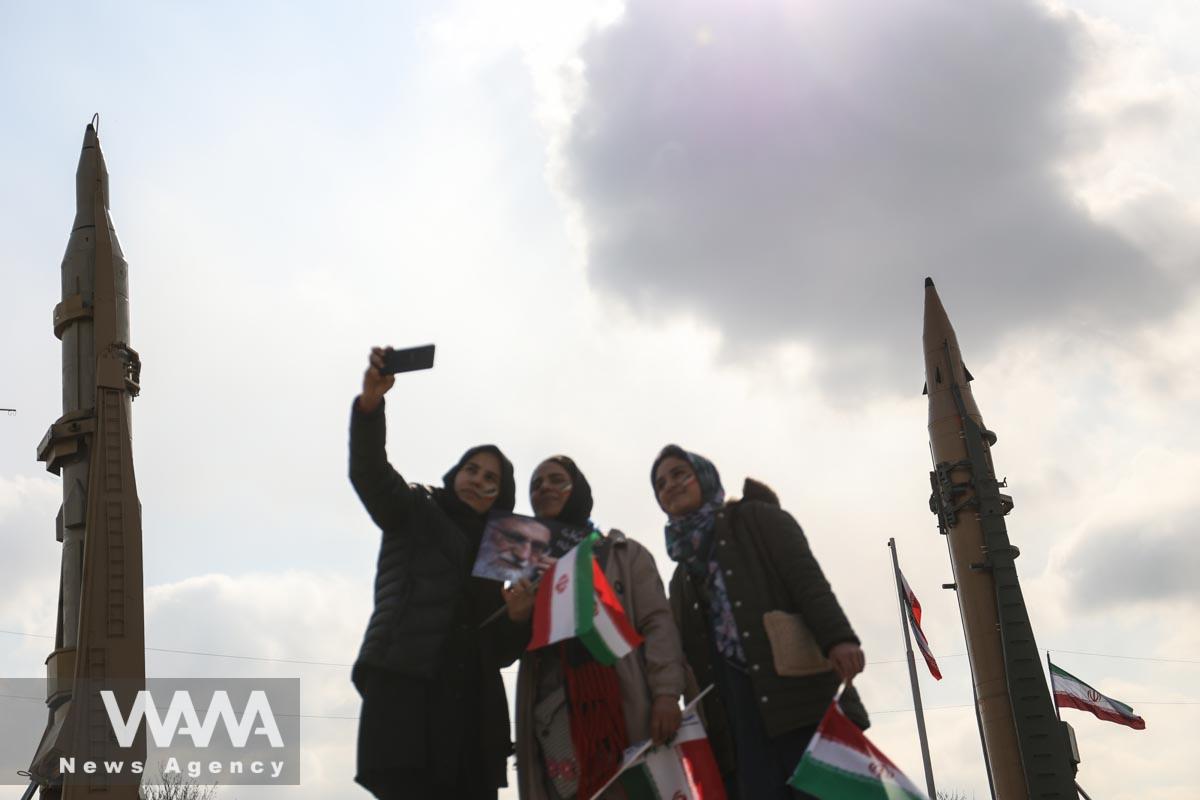 Gen Salami: " European official must know that we did not use any of our tools against them"
WANA (Feb 27) – Intense warning of the commander-in-chief of the IRGC (Gen Salami) to Europeans: "tolerance of the Iranian nation has limits. Do not put yourselves in danger situation."   Commander-in-Chief of the IRGC said: "We even arranged our missiles range so that it would not threaten Europe. Europe is taking oil from the […]
The two soldiers had a funeral procession around the shrine of Sayyida Zaynab, a holy Shia site in Damascus that the IRGC deploys soldiers to protect, before being transported back to Iran on April 3rd.
Islamic Revolutionary Guard Corps (IRGC) Commander-in-Chief Major General Hossein Salami, attends the funeral ceremony of Milad Heydari and Meghdad Mahghani, members of Iran's Islamic Revolution Guards Corps (IRGC) who were killed in an Israeli airstrike on Damascus, held in Tehran, Iran, April 4, 2023. Majid Asgaripour/WANA (West Asia News Agency)
Iranians gather during the funeral ceremony of Milad Heydari and Meghdad Mahghani, members of Iran's Islamic Revolution Guards Corps (IRGC) who were killed in an Israeli airstrike on Damascus, held in Tehran, Iran, April 4, 2023. Majid Asgaripour/WANA (West Asia News Agency)
People carry the coffin of Milad Heydari a member of Iran's Islamic Revolution Guards Corps (IRGC) who was killed in an Israeli airstrike on Damascus, held in Tehran, Iran, April 4, 2023. Majid Asgaripour/WANA (West Asia News Agency)