Iran and Belarus vow to work against western sanctions
WANA (Mar 15) – Belarus president, Alexander Lukashenko arrived in the Iranian capital late on Sunday at the invitation of Iranian President Ebrahim Raeisi and was officially received by him on Monday. The visit comes as the two countries mark 30 years of official diplomatic relations.
This is the third visit ever to Tehran by a Belarusian president and the first in 17 years. The two presidents and their delegations held talks, at the end of which they signed eight agreements on trade, mining and transportation, among other things.
"Today we achieved an agreement on a comprehensive roadmap between Iran and Belarus," Raeisi said during a joint conference with Lukashenko following the talks. He noted that this roadmap will change the future of relations between the two countries.
The Iranian president stated that the Islamic Republic has made U.S. and Western sanctions into opportunities for itself and is ready to share its experiences of dealing with the sanctions with "friendly" Belarus. Raeisi added that both countries oppose "unilateralism".
Lukashenko for his part, said he had observed "with great respect the perseverance with which Iranian people resist external pressures, attempts to impose the will of others on them".
"And I see that, despite everything, you are developing modern technologies and nuclear energy," he added about Iran's nuclear program which the country acquired despite tough international pressure and sanctions against it.
The Belarusian president also stressed the importance of accelerating the implementation of the very good agreements signed with his Iranian counterpart in Tehran. He expressed hope that Iran and Belarus would further improve relations given the firm determination of both countries' senior officials. The high-level talks included a pledge to increase bilateral trade volume to $100 million per year.
"Iran and Belarus both want to see a just, multipolar world," Lukashenko said. "The two countries fully trust each other and their two nations also support expanding relations."
He also met with Iran's Supreme Leader Seyed Ali Khamenei. Explaining on the existing common grounds between Iran and Belarus, the Leader said imposition of bullying sanctions by the United States and some other Western states on Tehran and Minsk are one of those common grounds.
"Those countries that have been sanctioned by America must destroy the weapon of sanctions through cooperation with one another and forming a common group, and we believe this is possible to do," the Leader said.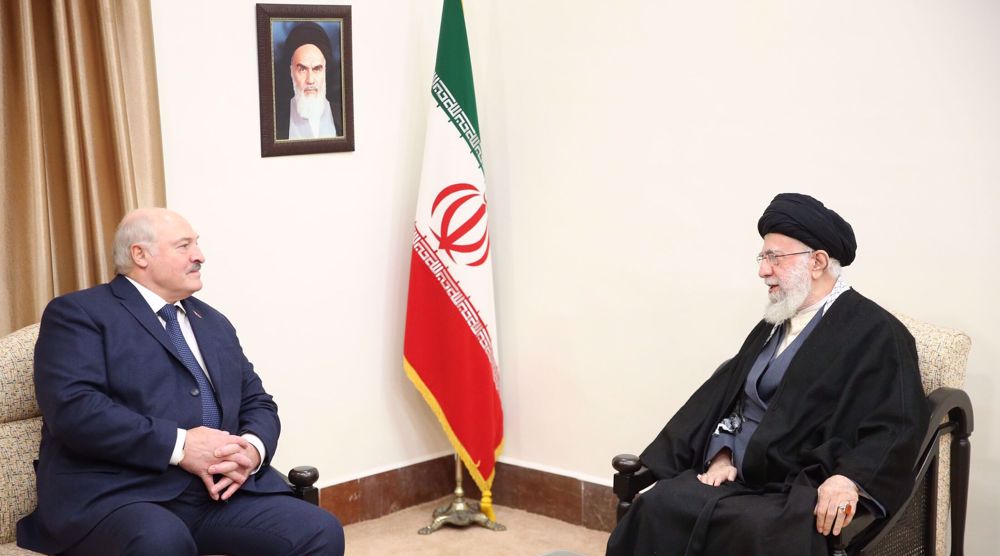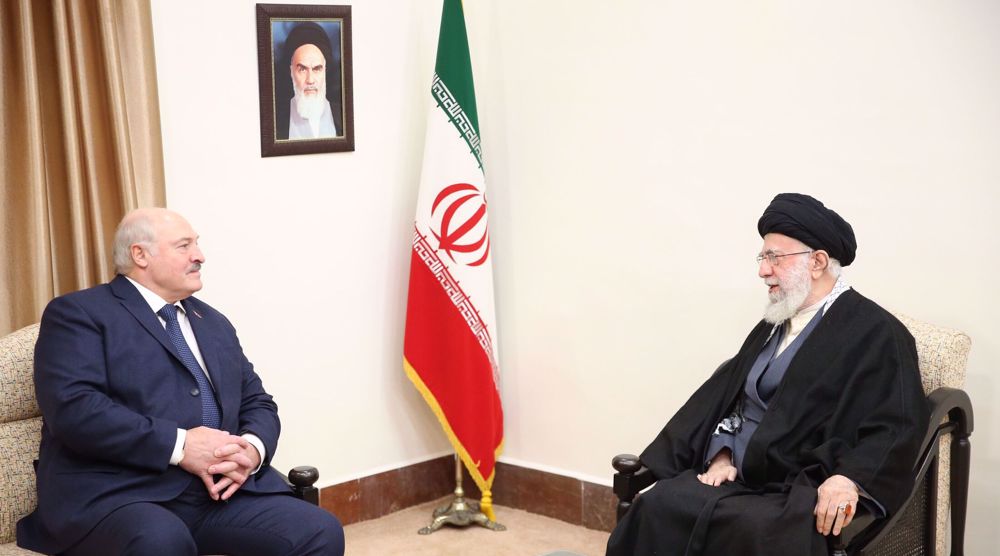 Referring to the U.S. bans against Iran since the victory of the Islamic Revolution and the imposition of tough international sanctions during the past 12 years, Ayatollah Khamenei said, "Severe sanctions made Iran notice its own intrinsic capabilities and forces."
"During the period of sanctions, many grounds for progress have been provided to Iran and our country succeeded to make eye-catching advances in various fields, including science and technology, medicine and biology, aerospace, nuclear (science) and nano(technology)," the Leader said.
Concerning the issue of the North-South Transportation Corridor, Ayatollah Khamenei said, "Launching the North-South Transportation Corridor will benefit both countries and also Russia and (the entire) region, and both sides must strive to get it launched."
The Belarusian president, vowed to follow up on all agreements between the two countries through cooperation with his Iranian counterpart.
Lukashenko concluded by saying, "We have come to know our true and false friends under the current hard international conditions and we are determined to engage in special cooperation with our true friends."
Both countries have been targeted by western sanctions, with the most recent for Tehran being accusations of supplying military drones to Russia for use in the war in Ukraine, something it has denied. In Belarus, Human rights organizations have claimed human rights violations during the 30-year rule of Lukashenko.
---