Iran's president travels to "continent of opportunities"
WANA (Julu 12) – Iran's president, Ebrahim Raisi, is heading to Africa on a three-nation tour. This is the first trip by an Iranian president to the continent in 11 years, which Tehran says aims to expand political and economic relations.
Heading a delegation, the Iranian president will travel to Kenya, Zimbabwe, and Uganda at the official invitation of his counterparts in those countries.
On Monday, Iran's foreign ministry spokesman Nasser Kanani told reporters that Africa was a "continent of opportunities" that wants to engage with Iran, and Tehran is eager to reciprocate.
"We can describe this trip as a new starting point to have a surge in economic and trade ties alongside boosting political and cultural relations with countries on this continent," he said.
Africa has around a fifth of the world's landmass, a population of about 1.4 billion, nearly half of the world's gold, and a third of the world's minerals. The continent is rich in natural resources ranging from fertile land, water, oil, natural gas, minerals, forests, and wildlife. It is also home to 18% of the world's population, with an increasing population growth.
President Raisi's visit will enhance Iran's relations with Africa and pave the way for economic cooperation between the two sides. This will certainly benefit the private sector most. African markets are diverse, and buying power is growing among consumers across the continent. National economists say Iran can carve out a niche in the market with proper planning, emphasizing the role of the private sector and developing joint chambers of commerce.
Raisi's delegations in his recent foreign visits have included owners of private businesses.
The three countries of Kenya, Uganda, and Zimbabwe hold special importance. Zimbabwe is one of the progressive and active Non-Aligned Movement (NAM) members and is one of the frontline countries in the fight against racial discrimination. At the same time, African countries have more than 50% of the Muslim population, making it doubly important for cultural cooperation with the Islamic Republic.
Another highlight for expanding trade between Iran and African countries is the short distance, a significant advantage in the global economy. Iran also has a great capacity to ship goods to African countries by sea, the most affordable way to move products worldwide.
According to a Tehran Chamber of Commerce member, Africa's foreign trade has grown significantly in the last twenty years. Iran still needs to be able to use this capacity. Surveys show Iran's trade with Africa has remained subdued at about $1.2 billion over the past few years, during which no significant step was taken to restore economic relations.
However, the director general of the Africa Office of the Iran Trade Development Organization says that will soon change, adding that Iran's trade with Africa is expected to reach $10 billion in the next three years.
Iran has stepped up its diplomacy recently to diversify its relations since the United States unilaterally abandoned the nuclear deal with Iran in 2018.
The Africa trip comes a month after Raisi embarked on a tour of Latin America, where he signed a host of agreements to boost ties with fellow US-sanctioned allies Venezuela, Cuba, and Nicaragua.
However, the recent development of relations has left a bad aftertaste for Western powers. Iran's isolation, the main goal of the copious amounts of sanctions on the country, is slowly dissipating. The current president had vowed to look elsewhere for healthy foreign relations following the meltdown of the 2015 nuclear deal, known as the Joint Comprehensive Plan of Action (JCPOA). His efforts to mend ties with countries such as Saudi Arabia and join International organizations like the Shanghai Cooperation Organization show his seriousness. The U.S. is unhappy with these developments and sees them as a threat to its imperialistic values, which have been crumbling for the past decade.
Africa, for its part, is a big fan of having relations with countries that will not try to meddle in their domestic affairs while looting their resources simultaneously.
After the Islamic revolution in Iran, the late supreme leader of Iran, Ayatollah Ruhollah Khomeini, said to start the Islamic Republic's foreign relations with African countries. When asked why, he replied: Because, like us, they have been hit by colonialism, they understand us better.
---
WANA writer / F. Fazaeli / July 12, 2023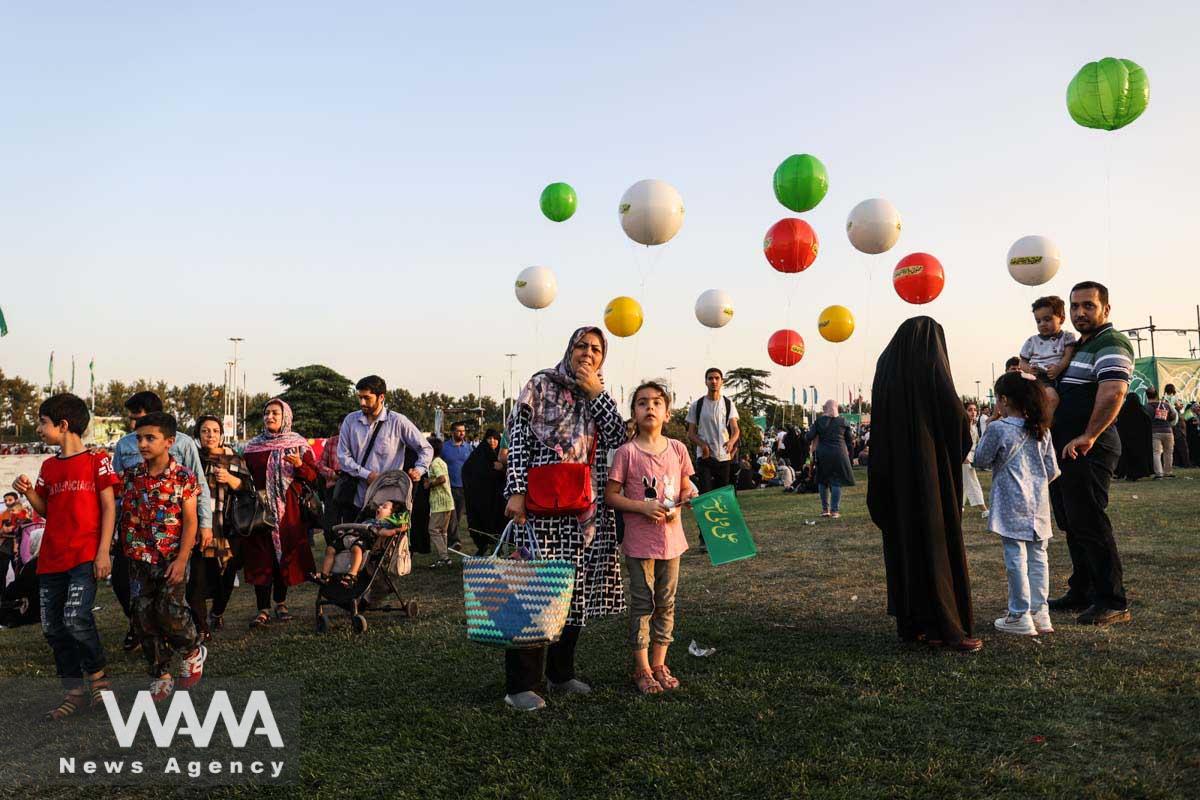 Ghadir Eid festivities in Tehran
Photo by : Majid Asgaripour VIDEO: Erfan Assar & Naser Safarzadeh