Islamic world support Palestinian people
WANA (Apr 14) –  April 14th 2023 marks the final Friday of the holy month of Ramadan, which is designated as Quds day for Muslims around the world.
On this Friday, people take to the streets in parades and demonstrations in support of the Palestinian people and their oppression by Zionists.
In Tehran, crowds gathered in the Iranian capitals main streets and arteries waving Palestinian flags and burning American and Israeli flags.
Top Iranian officials also attend the parade, and this year saw figures such as the chief of police, minister of intelligence, and speaker of parliament all attend, with the speaker of parliament speaking at the event.
Esmail Khatib, Iran's Minister of Intelligence, attended the event where he said: "The Islamic world's support for resistance can bring the path to victory closer for the Palestinian people."
Ahmadreza Radan, Iran's Chief of Police, said Quds day has always "had but one message, and that was that the world's oppressed are against the oppressors."
The event was initiated in 1979 by Iran's late supreme leader Ruhollah Khomeini who designated the last Friday for Ramadan to the purpose. Since then, multiple Muslim countries around the world have adopted the event and demonstrate on the day.
Iranian authorities remarks on Quds Day
President of Iran, Seyed Ebrahim Raisi: " The liberation of Quds is very close… Trying to normalize relations with the countries of the region will not bring security to the Zionist regime"
Gen, Salami, IRGC chief: "The Zionist regime is rotten and decaying and is close to collapse. The first signs of its decline are that there is no established political system in Israel, its political system is broken and completely out of order."
Qalibaf,  Iran's Parliament Speaker: "Today we can think about the post-Israel world… The Zionist regime is grounded today… The resistance is operationally standing against the crimes of the Zionists. Today, instead of stones, the Palestinians are throwing rockets at the Zionists."
Members of a special IRGC force attend a rally marking the annual Quds Day, or Jerusalem Day, on the last Friday of the holy month of Ramadan in Tehran, Iran April 14, 2023. Majid Asgaripour/WANA (West Asia News Agency)
Iranians hold flags during a rally marking the annual Quds Day, or Jerusalem Day, on the last Friday of the holy month of Ramadan in Tehran, Iran April 14, 2023. Majid Asgaripour/WANA (West Asia News Agency)
A Palestine flag is seen during a rally marking the annual Quds Day, or Jerusalem Day, on the last Friday of the holy month of Ramadan in Tehran, Iran April 14, 2023. Majid Asgaripour/WANA (West Asia News Agency)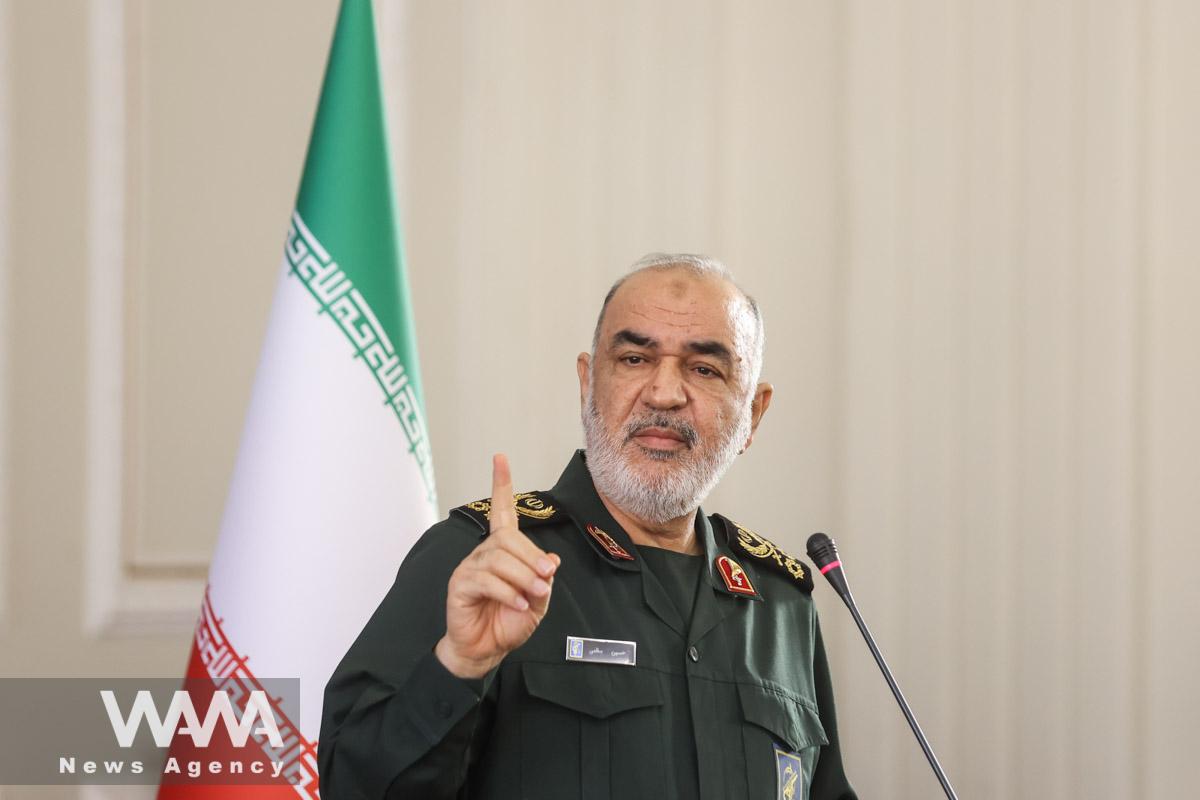 Major General Salami: The countries that wanted to destabilize Iran have become unstable themselves
WANA (Apr 8) – Commander of the Islamic Revolution Guards Corps (IRGC), Hossein Salami: "Today, everyone knows France with the violence and brutality of the police with hundreds of thousands of protesters. Look at the Zionist Protesters who are constantly coming to the streets of Tel Aviv and it has reached a point where […]