The voices of the opponents of the Western dress code are loud in Iran
WANA (July 12) – As July 12, the "Hijab and Chastity" Day in Iran, approaches, news, reviews, and criticisms about this calendar day are increasing daily.
After the death of Mahsa Amini, a 22-year-old girl who died at the police station, the issue of hijab in Iran took a new form.
Opponents of hijab came to the street to show their opposition. The government gathered morality police from the city, but Islamists still believe the administration in Iran should implement the hijab law.
On Monday, July 10, a special meeting chaired by Ebrahim Raisi, President of Iran, along with top officials such as Mohammad Bagher Ghalibaf, the speaker of the Islamic Parliament, and the heads of other relevant ministries was held in the president's office.
In this meeting, the president of Iran asked various institutions, including the Ministry of Interior Affairs, the Ministry of Guidance, the Judiciary, and the Police Force, to fulfill their legal obligations regarding hijab regulations and reminded them that the implementation of the legal obligations of any institution should not be delayed as a result of waiting for the approval of the new Hijab and Chastity Bill.
The Bill of Chastity and Hijab is one of the governmental plans regarding chastity and hijab to To observe the Islamic veil in society.
Iran's judiciary prepared this Bill after the guidance patrol's suspension due to Mahsa Amini's death in the fall of 2022. The government board also approved the Bill and sent it to the Islamic Council, and it has yet to be approved.
Today, to celebrate the day of the Hijab and Chastity, people, especially women, gathered in the center of Tehran (Imam Hussein Square) and other cities to show their support and respect for the Islamic dress code.
Thousands of Tehrani women participated in this ceremony and wanted the government to implement the hijab law seriously. They were even angry with the current fundamentalist government because they neglected to enforce this Islamic law.
"The hijab that we see in the streets is not the Islamic hijab that we believe in, and we would like the community to return to its normal customary hijab-having situation." Vahideh Tolouei, a Tehrani citizen, said.
Mrs. Saeedeh, who appeared to be a university student, told the WANA reporter that the government should deal with those who do not observe the Islamic hijab. She needed to clarify the quality and shape of the encounter. "In my opinion, those who do not follow the customary hijab should be seriously dealt with." Saeedeh Farahmand stated.
Religious forces pressure President Raisi's government to implement the hijab lawfully. Undoubtedly, if the government were in the hands of the reformists, the religious protestors would have severely criticized that government because of the current way of dressing women in the streets.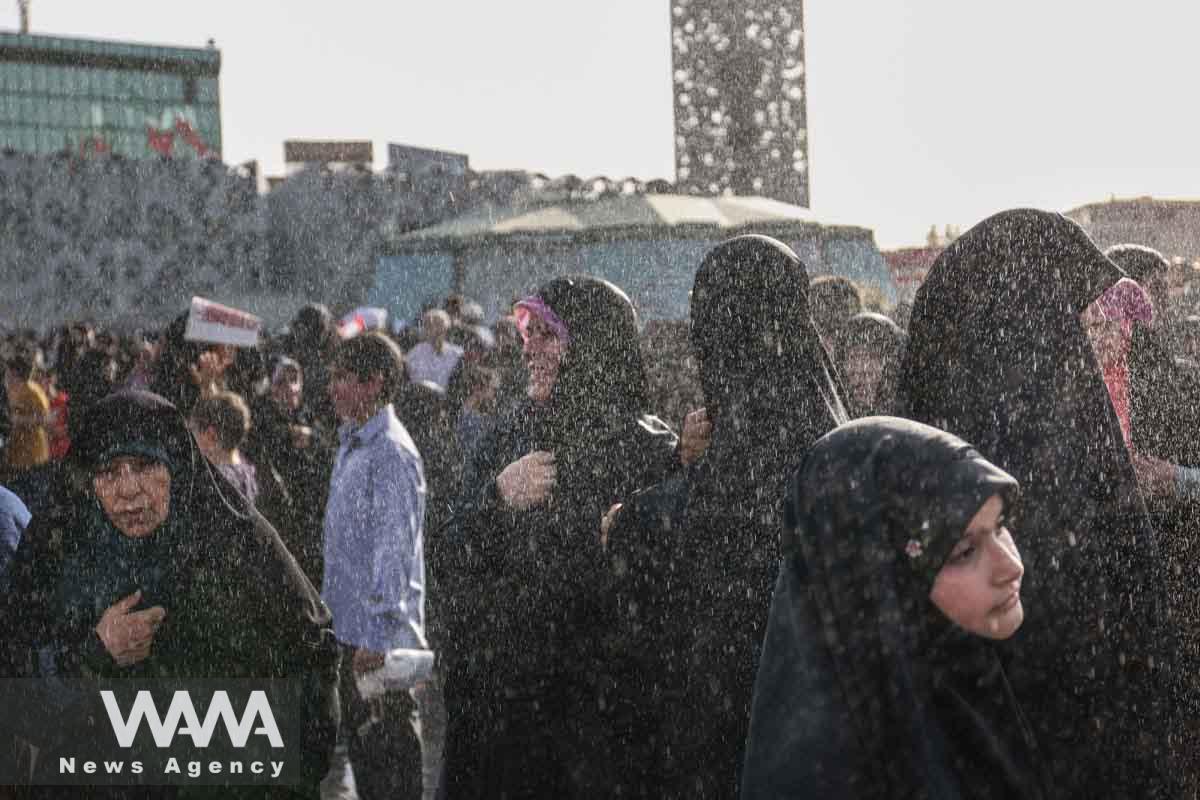 The gathering of Islamic hijab supporters
Photo by : Majid Asgaripour VIDEO: Erfan Assar & Naser Safarzadeh