The Zionists' infanticide angered the Iranians
WANA (OCT 18) – When the news of Israel's attack on a hospital in Gaza was published in the media tonight, Iranians in different cities came to the streets and demanded Israel's condemnation.
In Tehran, people gathered in Palestine Square and then went toward the French and British embassies. This rally lasted until three AM in the morning Tehran time.
Mrs. Saghri, A Tehrani citizen, told WANA reporter that when she heard the news of Israel's attack on a hospital in Gaza and saw the pictures of the killing of children on TV, she could not stay at home, so she asked her husband to come to the street to show her hatred from the Zionists. She expected her government to have a solid reaction to Israel's crimes. She said: "I expect the rulers of my country (Iran) to support Palestine and the Palestinian people. They should be punished ( because of Israel's crimes). We used this slogan to say that rockets against rockets are what we all want."
This lady, who was on the street until 3 AM, considered the demands of the Palestinians to be entirely reasonable. "The Palestinian people do not commit a crime. They don't want anything. That is their home. They don't want to leave." Shahgholi said
The rallies were held outside of the embassies of France and England because these two countries supported Israel's attacks against Hamas. Iranians consider these countries to be the prominent supporters of Israel in the region.
The US does not have an embassy in Iran, and the Israeli embassy was closed after the revolution, and the Palestinian embassy replaced it.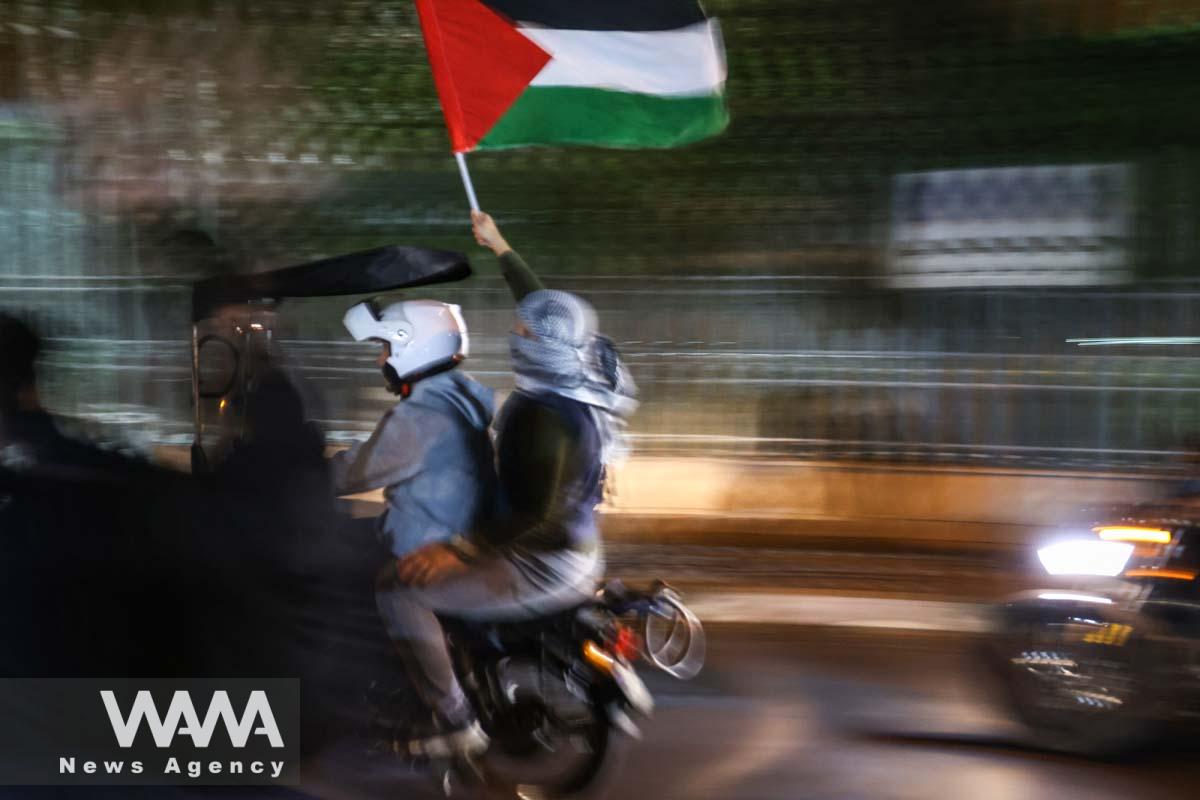 An anti-Israel protest in Tehran
Photo by : Majid Asgaripour
The protesters chanted slogans against America and Israel. They wanted a military attack on Israel by their government, Lebanon's Hezbollah, and other Islamic countries.
Many participants in these gatherings wanted to go to the borders of Israel to fight with the Israelis.
In tonight's rallies, even more seriously than men, many women wanted to go to the Israeli borders to fight with Israelis. "In my opinion, we Iranians should help them. Even if necessary, we should fight alongside Palestinians with the Israelis." Mis Sahar told WANA.
It is undeniable that Palestinians and Muslims worldwide hope that Iran will punish Israel in military action. Palestinians have been disappointed with Arab leaders for years.
MORE TO KNOW
Israeli air attacks have killed hundreds of Palestinians in al-Ahli Arab Hospital in Gaza City where thousands are seeking medical treatment and shelter from heavy bombardment.