Why is the Islamic Republic of Iran in dispute with Abdul Hamid, the Sunni leader in Iran?
WANA – Mawlavi Abdul Hamid Ismail Zahi was born in 1947 in a village close to the city of Zahedan in south east Iran called Galougah. At the age of 12 to 13, he went to Kurin village to study Quran and After some time went to Zahedan. Around 1340, he went to Saravan and stayed there for a year. Later, he travelled to Pakistan to complete his studies. After a while, he left for Punjab state.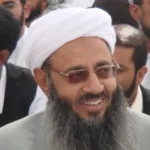 In 1970, Mawlavi Abdul Hamid graduated from Badrul Uloom Rahim Yarkhan Seminary and then returned to Zahedan. In the same year, Mawlavi Abdul Aziz Molazadeh, one of the great scholars of the region founded Darul Uloom Zahedan School. Abdul Hamid was related to Mawlavi Abdul Aziz in Zahedan. At that time, Mawlavi Abdul Aziz was regarded as an influential Sunni scholar in Zahedan.
Mawlavi Abdul Aziz had 14 daughters and 4 sons and approved Mawlavi Abdul Hamid to be his son-in-law. Accordingly, one of Mawlavi Abdul Aziz's daughters becomes one of Mawlavi Abdul Hamid 's wives. In 1987, when Mawlavi Abdul Aziz passed away, Mawlavi Abdul Hamid took over the management of Zahedan's Darul Uloom.
Mawlavi Abdul Hamid's entry into the arena of politics
At the beginning of the victory of the Islamic revolution, Mawlavi Abdul Aziz, was the renowned Sunni scholar in Zahedan in charge of the seminary and Makki Mosque. Mawlavi Abdul Aziz adopted a wise and balanced approach and was less likely to take radical stances and positions.
After the demise of Mawlavi Abdul Aziz in 1987, his son-in-law, Mawlavi Abdul Hamid took over the management of Makki Mosque and school. At that time, Mawlavi Abdul Hamid was not involved in any special political activity.
The first political incident in which Mawlavi Abdul Hamid played a role was that of Sheikh Faiz Caravanserai in the city of Mashhad in 1993.
Following this incident in Mashhad, Mawlavi Abdul Hamid, who had run the Makki complex for simply 5-6 years, launched his political career. Protests and gatherings were held in protest against a halt in the construction of the mosque in Sheikh Faiz Caravanserai, orchestrated by Makki Mosque and Mawlavi Abdul Hamid.
Those protests first began with a gathering and sit-in in the Makki Mosque and gradually spread to the street and finally led to clashes and destruction of public property. At that time, the police force controlled the gatherings, but when the violence occurred, the police was not able to control the events.
Later, the Islamic Revolutionary Guard Corps (IRGC) entered Zahedan and finally the riots were suppressed.
Mawlavi Abdul Hamid's stance on Jundallah and Abdolmalek Rigi group
The Jaish al-Adl [a Sunni militant organization based in Sistan and Baluchestan] group which is known in Iran as Jundalshaitan group, began its activities in Sistan and Baluchestan province in the 2000s led by Abdul Malik Rigi.
In his confessions and the videos of his confessions Abdulmalek Rigi have said that he had been in direct contact with the Americans and had met with the American security service in the Persian Gulf countries and received financial and weapons support from them.
That happened when Rigi committed serious crimes in the region and the Shiites in Sistan and Baluchistan did not have the least feeling of security. Even when this group committed a horrendous crime in "Tasuki" by stopping ordinary people on the road of Zabul-Zahedan and killed a large number of those innocent people, Mawlavi Abdul Hamid did not show any specific reaction.
Mawlavi Abdul Hamid's stance on ISIS
Although many Sunni religious scholars have condemned ISIS and the crimes this militant Islamist group has committed in Iraq and Syria, one is surprised to see openly during the entire period of the formation of this Takfiri and criminal group, Mawlavi Abdul Hamid has not bluntly condemned them.
At that time, although ISIS recruited Baloch young men and teens in Sistan and Baluchestan province, and even in some cases the flags of ISIS were installed in areas of Zahedan, he did not condemn ISIS. Even his ambivalent positions strengthens the suspicion that he is sort of approved of them.
Mawlavi Abdul Hamid's stance on Taliban
At the moment, Taliban has become a sole power in Afghanistan and is expanding its reach to all regions of that country, oppressing and boycotting other Afghan ethnic groups, imposing strict laws against women in Afghanistan and even deprives them of education right.
Meanwhile, Mawlavi Abdul Hamid supports the Taliban. He says: "The wide and rapid advances of the Taliban, which have taken over many parts of Afghanistan, show that this movement has popular roots and enjoys God's support and people's help." One may ask Mr. Mawlavi Abdul Hamid whether God is backing the Taliban for oppressing and displacing a group of Afghan people.
However, he later changed his position on Taliban and criticized them for banning Afghan girls from education saying: "You [Taliban] on which decree of Sharia prevented girls from education? Who has told you [Taliban] to deprive girls of education?"
Mawlavi Abdul Hamid's ties with Saudi Arabia
According to some evidence, Mawlavi Abdul Hamid has good ties with Saudi Arabia, it seems that there is a good relationship between them. He is a member of the World Union of Muslim Scholars and a member of the Mecca Jurisprudence Council, both of which are founded and run by the Saudi government.
They invite Mawlavi Abdul Hamid to their meetings. He is in good terms with some religious figures and Saudi politics.
Mawlavi Abdul Hamid's stance on the recent protests in Zahedan
During the recent events of Zahedan, his positions had a significant impact. A month before the start of the recent unrests (protests in Iran began after the death of Mahsa Amini, a girl who was arrested by police because of her "improper hijab" and passed away in a police station), he had hardened his stance against the Islamic Republic system and without any particular incident, he states that the Sunnis in Iran lack religious freedom and are beaten in the prayer halls (while at that time there was no evidence to back this claim.).
At the beginning of October 2022, he brought up a rumor that was related to almost 30 days before and there was no document for it. There was a rumor that a Sunni girl was raped by police personnel in Chabahar, which was raised by some people from the beginning of September and was never proven and denied. But surprisingly, it was observed that he brought this rumor in the Friday prayer on October 1 and caused a new issue.
This claim was not well-founded after the Friday prayer on that day when serval people were shot down as the result of the provocation, he did not raise the issue anymore.
The dominant view of Iranian officials on Abdul Hamid's actions
From the view of the Iranian officials, an investigation of Mawlavi Abdul Hamid's background and his political positions toward the Islamic Republic since the beginning of his tenure as the manager of Makki Complex shows that he has Salafist tendencies.
Also, he does not draw a precise demarcation with some Takfiri movements such as ISIS and Wahhabism, it. On the other hand, in his political stances, from the beginning of his career until now, he has backed the rioters in all the riots that have occurred.
They also add that Abdul Hamid's approach in supporting ISIS by implication and keeping silent against the activities of armed groups in Sistan and Baluchestan province has caused a negative image of this province in the minds of some Iranian people leading to a less communication with the people of the province as Sistan and Balochestan province and Baloch people have always been among the most original people of Iran.